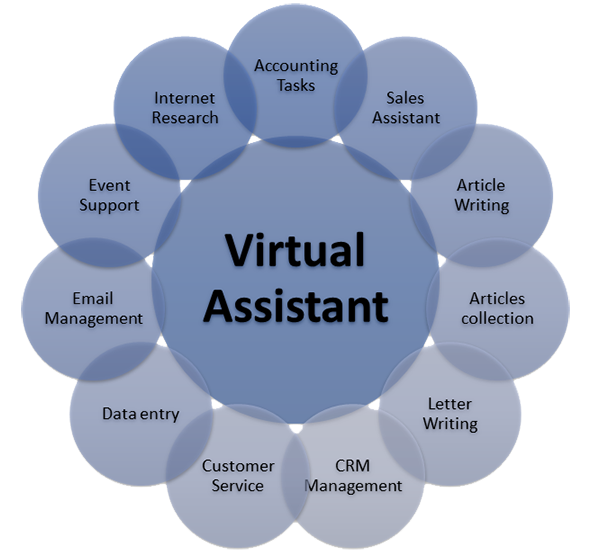 Are you looking out for an opportunity to become a virtual assistant with no prior experience? No worries! The biggest truth is, you don't need to be an experienced virtual assistant to begin this career. Many people begin from basic level and build moneymaking careers.
Who is Virtual Assistant?
A virtual assistant commonly referred to as "VA" is a business entrepreneur who provides online business support utilities to valuable clients in various industries across the globe from their remote location on virtual basis i.e virtually. The virtual assistants provide business services from home or any remote location.
The services offered by the virtual assistants can comprise everything from administrative tasks to social media to teaching services.
The VA can handle multitasking jobs efficiently. The VA has the capability to manage the social media accounts of a blogger sitting in other part of the country or can manage the back-office management of a travelling life-coach based in the Australia while the VA sitting in India or any part of the country. These are just instances.
The Virtual assistants should create a profile in LinkedIn professional community.
LinkedIn is a network community which links the professionals and emerging beginners in a particular field.
The LinkedIn is populated with bunch of professionals and experts in each industry. You can get in touch with the professional experts to stay up to date.
You can educate yourself by learning and observing them.
The remote services provided by the VA are split into four major divisions:
General Administrative services
Below listed are a few admin services you can provide to your client as a Virtual Assistant:
Cold canvasing or calling, booking sales appointments or seek a donation with their prospects/clients. The market research is required to focus the target audience.
Regular follow up with valuable clients/customers through online or offline correspondence mode.
Electronic Calendar Management helps you to record events and mark appointments on an electronic calendar.
File folder Management (manage and organize their files using Dropbox / Google Drive etc)
Online google research for blog post topics, newsletters, gathering contacts etc.
Hotel room and Flight travel Bookings
Creating different reports on weekly/fortnight tasks, deliverables, sales, turnovers etc.
Preparing Microsoft PowerPoint Presentations for their online courses, webinars, conferences or meetings.
Recruiting and monitoring other remote freelance employees like a web designer or video editor.
Personal jobs – buying surprise gifts, booking restaurants and events, reserving tables for dinner, house shifting, paying bills etc…
Digital Marketing Services
Digital Marketing is the way of marketing product or services through digital technology mode. The digital technology mode is promoted in internet which includes mobile phones, and other digital sources.
The Digital marketing ways such as Search Engine Optimisation, Search Engine Marketing, Internet marketing, Product marketing, social media promotion, paid search, marketing collateral, Email marketing, Mobile marketing are spreading across the world. The varied options require the VA services.
Within each digital marketing strategy, there lies lots of scope for improvement, so measuring each strategy is very important.
According to Digital marketing, Metrics matters everything and analytics are king.
Here are a few examples:
SMM (Social Media Marketing) – Social Media Marketing is the usage of social media forums such as facebook, twitter, Instagram and websites or blogs to market a product or service. The online marketers promote product, create brand awareness among the consumers across the world.
SEO (Search Engine Optimization) – Search Engine Optimization is the practice adopted by the SEO or e-commerce organizations to maximize the visitor count, increase the traffic, populate the website using the optimization methods. The optimization techniques are used both through online and offline mode.
SMO (Social Media Optimization) – The Social media optimization is the process to increasing the brand name, awareness and popularity of the product across the social media platforms and groups to gain public attention.
Facebook Marketing – The online marketers create brand popularity by creating a facebook pages and keep a regular follow up. The marketers create advertisements to gain popularity.
Twitter Marketing – The online marketers create brand popularity by creating an account in twitter page and keep a regular follow up. The marketers create advertisements to gain popularity and view the followers.

Instagram Marketing –

The online marketers create brand popularity by creating an account in Instagram and keep a regular follow up. The marketers create advertisements to gain popularity and view the followers.
YouTube Marketing – The YouTube marketing allows the user to post videos and create virality across the million viewers. The user need to create a channel and post videos related to various subject like cooking, fashion, child care tips, child psychology, hair dressing and much more.
Pinterest Marketing – Pinterest marketing is using Pinterest as the platform to increase the product and business awareness. Pinterest is used to drive traffic to the website and draws audience attention.
Email Marketing – Email marketing is the process of sending commercial content or message targeting the valuable clients or set of people through email mode. The email marketing is used to promote sales of the product or pitching the sales and sending marketing collaterals to the targeted people.
Branding – Branding actions are implemented by organization to make them different from peer and other emerging competitors. The branding strategies are implemented to strengthen your position in the market. The branding is done by the marketers who wants to create a brand loyalty among the consumers.
Paid Advertisements – The Online marketers make use of the paid advertisement which is published in the websites and google or other search engines to drive traffic among the consumers.
Content Marketing – The marketing stuff is transferred through content in online websites and social media.
Creative Job Suite
Here are some examples of Creative Jobs which are in demand:
Copywriting
Graphic designing
Newsletter designing
Web designing
Creating Infographics
Logo design
Designing branding materials to launch new product or service – pdf, ebooks, flyers, mock-ups, business cards, banners, etc.
Video creation and editing
Online Teaching services
The teaching services can be divided into 2 broad categories:
1. Teaching services offered through LIVE mode
Few Instances:
Tutoring school children online
Tutoring English or other language speaking online to students/ working professionals/ homemakers.
2. Teaching services through "How to" video tutorials
Few real examples:
How to create a successful online course
How to create graphics using Canva / Picmonkey / Gimp tools
How to make use of Google Drive / Drop Box / One Drive and store unlimited data
How to make instructional videos
How to bake pancakes, ice cream cakes, sugar-free cupcakes / whole wheat bread/cookies etc.
How to do party makeup or hair dressing in 15 minutes
How to create fillable PDF workbooks or worksheets
How to take professional pictures for Instagram / Facebook
How to become a branded affiliate seller on Amazon / eBay
How to automate Pinterest marketing
How to draw faces or images for comics books
There are bunch of online resources available on the internet to help you learn and get familiar in work from home jobs and opportunities suitable based on your interests and skills.
Which soft skills match up with clients to work remotely?
These are a the mandate skills you need to work or employee long-term with profitable remote clients:
Be Professional – You need to be more professional in all your interactions and communication with the clients.
Never hesitate to take Initiative – Since you are a virtual business owner, the clients expect you to analyse and understand the tasks fastly and take initiate to ask for any doubts promptly, without expecting and halting for them to instruct you.
Problem-solving skills – You should be able to forecast a problem before it turns into a major crisis and is more expected to correspond the client with a happening solution.
Efficient – Owing experience, your work efficiency will increase and your continuous efforts to grow the business process will take you a long way.
Persistence – You may come across a strict time-bound assignment or a tough situation wherein you are required to devote extra time, effort and energy to complete the task. Your perseverance and ability to make an effort despite all odd situations will project you as being trustworthy and reliable.
Good communication – Clients require you to update them regularly with an open mind. Making the clients to ask or send reminders to you about the work updates is NOT being professional.
Task Organization skills – Your ability to manage your tasks ahead, follow the schedules and putting focus on one thing at a time will enable you manage multiple tasks with valuable client projects successfully.
Which tools does the VA need?      

                          
Below given are some of the basic tools you need to know and excel before you take up client work:
Google Docs – for creating, editing and sharing documents
Dropbox – file sharing tool
WordPress – for creating and managing websites
Email marketing tool – MailChimp, GetResponse
Social Media Management Tool – Hootsuite, Buffer
Where to find virtual assistant jobs?
There are many companies who ties contract with virtual assistants. These companies aka agencies act as a middle person to get a job in virtual assistant sector.
Follow the websites such as Indeed, Upwork, Time to find out the virtual assistant jobs.
Make sure the queries or search given are relevant to the field and enter in the what and where sections.
End Summary
Virtual assistant holds job profile with multi-tasking potential because the job profile covers miscellaneous skills.
The virtual assistants are responsible to provide administrative, technical, customer care for law, finance, start-up business among other employers. You can set-up a virtual assistant business or work from home opportunity from clients across the world.
You need to upgrade yourself according to the job profile.Since the virtual assistants are involved in different field, their income differs widely ranging from 20,000 to 80,000 dollar on an annual basis.
The highest salary drawing virtual assistant need to devote their work for full-time and provide executive level support to clients and provide services such as web-designing, developer.