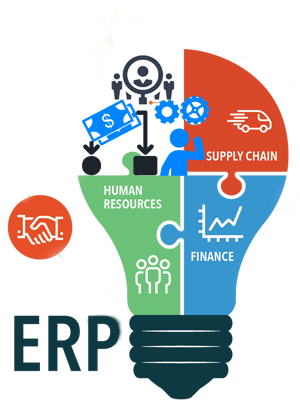 In a globalized environment organisations are undergoing fundamental transformation and are expected to undergo further changes in the new millennium. The enterprises of the new millennium will be characterized by their primary emphasis on value-adding in every process and activity within the organization. There is a need to have a new kind of enterprise wide architecture that will act as an enabler for all the flexibility and resilience essential for survival in the new millennium. ERP packages, such as SAP R/3, SAP HANA and other SAP provide essentially such an empowered architecture for the millennium enterprise.
ERP (Enterprise Resource Planning) System is packaged business software system that allows an enterprise to automate and integrate majority of their business processes. It enables an enterprise to share common data throughout the organisation.
ERP products available in the Market are –
SAP
ORACLE APPLICATIONS
JDEDWARDS
BAAN
PEOPLESOFT
MICROSOFT DYNAMICS etc.
SAP is the one of the best ERPs in the market. It has a very advanced architecture and design that enables an organization to have comprehensiveness and flexibility of adoption.
SAP is a leading ERP Package.
SAP enables an enterprise to undertake its day to day and long term activities in an effective and efficient way.
Use of this package makes it possible to track and manage, in real-time, sales, production, finance accounting and human resource activities in an enterprise.
It is integrated software which updates the business process automatically in a every corresponding area once it is recorded in a specific area.
CONCEPTUAL AREAS OF SAP
It can be divided into the following three parts-
APPLICATION OR FUNCTIONAL AREA
TECHNICAL AREA
TECHNO-FUNCTIONAL AREA
APPLICATION OR FUNCTIONAL AREA
Application area deals with a specific function or an application in a specific area. E.g all finance functions will be dealt in FI (FINANCIAL ACCOUNTING MODULE AND ALL COSTING FUNCTIONS WILL BE DEALT IN CONTROLLING MODULE).The following are some of the widely used application modules –
Financial accounting (FI)
Controlling (CO)
Materials management (MM)
Sales and Distribution (SD)
Production Planning (PP)
Plant maintenance (PM) & Customer Service (CS)
Human resources (HR)
People with respective domains will enter into the respective functional or application areas. An individual entering into an application area should have a clear understanding of the business processes in that area.
This area does not need any programming skills. Individuals with knowledge in the respective domain can plan a career in this area. This is the best available platform for non technical people to enter into information technology industry.
TECHNICAL AREA
Technical Modules include the following –
ABAP
BASIS
Business Intelligence/Business Objects (BI/BO).
SAP BW
SAP HANA etc
This area needs people with knowledge in programming and coding. ABAP (ADVANCED BUSINESS APPLICATION AND PROGRAMMING) is one of the widely used programming language.
BASIS does not need any programming knowledge. It deals with technical administration of the system. Maintenance of the systems, servers, creation of user id's and passwords etc is taken care by BASIS consultants.
BI/BO deals with new report generations etc.
SAP HANA is a new database which needs people with database knowledge.
TECHNO-FUNCTIONAL AREA
This is an area which needs people with both technical and functional knowledge. The following are the modules which can put under techno functional area –
SAP BPC (BUSINESS PLANNING AND CONSOLIDATION).
S/4 HANA FINANCE.
CAREERS IN SAP
People with domain knowledge can make a career in sap as a –
Functional Consultant
End User
Support Consultant
FUNCTIONAL CONSULTANT
As a functional consultant you will be responsible for the following activities –
Functional consultant is expected to have knowledge about the current business process.
He is expected to design current business flows into SAP.
His main task will be to customize the respective business processes.
END USER
As an end user you will be responsible for the following activities –
End user will be using the ERP Software implemented in the Organization.
His role is restricted to data entry.
He undertakes activities like passing the JV's, entering the data related to invoices etc.
SUPPORT CONSULTANT
The main job of the support consultant is to provide assistance to the customer or the organization where SAP is already implemented
Primarily responsible for solving the problems of end users.
When a problem arises the support consultant has to diagnose, analyze and solve the issue
Our course covers all the three areas on a step by step process.
 Browse our all SAP courses offered by Uplatz!
Get in touch with us at info@uplatz.com or Call & Whats app +44 7836 212635
Author of this content: Venkat S