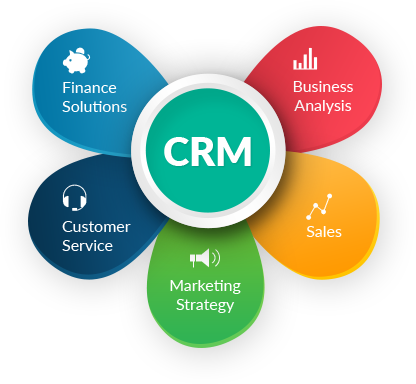 Customer Relationship management (CRM) is the technological process responsible in managing entire company's relationship and interact with potential customers to pitch in sales.
The ultimate goal is to improvise business relationships. A CRM process helps organizations to stay connected with consumers and potential customers, streamline workflow process, and gain profit.
When we ought to discuss about CRM, it is referred to a CRM system, a software tool which is able to manage the client management, sales productivity, economy turnover and much more.
A CRM solution enables you to focus on the company's relationship management with individual people – which includes customers, client, service providers, production suppliers and more.
1. Who uses CRM?
A CRM tool or system is used in different discipline of industry: Sales, client relationship, customer relationship, business growth, staff recruitment, digital marketing and many other streams.
The CRM is mainly used to build relationship and better solution to manage the outward interactions and rapport that brings success.
A CRM tool is designed to do multi-tasking activities. A CRM tool stores customer details, project contact details, indicate sales opportunities, collect marketing collaterals, service record, everything in one location. You can track the necessary information from one central location.
The data visibility and access are made easy. The tool makes the user to collaborate and generate productivity. The CRM tools are designed on a user-friendly interface and it is easy for the user to get used with the tool.
2. Why CRM Means a lot for Your Business?
In general, CRM tool make it possible for companies of all levels to operate the business growth. Especially, the CRM tool is highly beneficial for small size businesses, where the team members need assistance to generate productivity with less source.
You need to stay up to date in every aspect of business. Likewise, CRM tool provides a common space for every option – a common dashboard which reveals customer's details, purchase history, service record, their interactions and much more.
CRM tool allows the user to include information from external sources such as social media actions- likes, comments, tweets and feedbacks. The Online marketers use the CRM tool to evaluate their growth and what customers discuss about them.
Marketers make the best use of this tool to better understand the sales outcome and the choices or leads, future forecast. You will have a clear vision about the opportunity in the industry and your position.
Basically, CRM tool is useful in transforming the data coming in from sales, consumer service, marketing campaigns and social media tracking into business-oriented information.
Extend the CRM tool usage from sales management to recruitment, productivity and other purposes.
If you think you can run a business without any need of CRM, it is a wrong decision-making and makes you to spend lot of money.
3. How Does CRM Tool Works?
A customer relationship management system helps you to find more new customers, project the business, and make your customers happy because of efficient organization. The CRM system also show case information in a way that builds a strong bondage with customers and gain loyalty.
CRM systems begin to collect the customer's website, email id, mobile number, social media account and much more activities across various streams. This tool automatically pulls out other information such as recent promotion activity or any other company's activity, enabling you to store the client's personal details for future communication.
The CRM tool organizes the collected information in perfect alignment and order to make you understand better the relationship.
The CRM tool provides you a complete record of an individual client or customer to develop relationship over time.
The CRM tool gets connected with the business applications to boost your company's growth and economy.
Get integrated with miscellaneous business tools such as Documentation, Billing, Surveying, accounting, so that the retrieved information gives you an entire view of your client.
4. How Does CRM Help Your Business?
The CRM tool is useful in business because of the below given reasons:
Improvise the bottom line
The CRM tool involvement improves the count and numbers in sales force, production, customer rating and client satisfaction.
Recognise and designate leads
The CRM tool helps you to identify the strength and enables you to work on it. It helps you
focus on the right path, so that you can concentrate and develop the company's growth.
There are many leads in a company such as sales, marketing, customer support and much more.
Gain referrals from existing customer
You need to grab best offers or leads from the existing customers and there are lots of chances where the existing customers refer your company because of your commitment, hard work and strategies.
Provide best customer support
The customer support is the key point. The support system given by the company populates the customer growth.
Better your products or services
It is very important to be creative and innovative while launching the product or services. Review the public forums, posts to get to know the customer's choice.
CRM software helps organizations to manage relationships with consumers and valuable clients.
The CRM software suitable for start-up business set-up are evaluated based on the given criteria:
Price:  Per month costs should not go beyond 80-dollar since peer vendors provide trial software and zero payment plans to get initiated.
Contact management: Adding, editing and finding contacts should be easy and incorporation with basic functions such as email, calendar, phone calls and other tasks.
Deal and possibility management: Deal and sales pipeline should be customizable, envisioned, and easily manageable.
Workflow automation software: The software features automatic functionality such as the sales flow process, follow-up tasks, and other task reminders.
Reporting tools: Reporting tools trail data such as sales, representative activities, and forecasting.
Integrations: An effective CRM will integrate with other software such as accounting, digital ecommerce, and marketing.
Customization: Customization of divisions such as customer contact fields, deal fields, sales pipelines, and production processes is standard with high-end plans.
Customer review and satisfaction: CRMs should have mostly five stars and positive user reviews and customer support from different channel mode.
Here are the top 10 CRM software suitable for small business entrepreneurs.
1. Freshsales
Freshsales is the best CRM software for B2B business mode. This software is designed with ease of use and simple setup.
The organization need not hire an employee to manage the software. Freshsales is well-known for its genuine customer service. Users prefer the deal section and the way freshsales displays the consolidated sales process.
Freshsales offers free plans for unlimited users with basic functionalities such as content management, phone call system. The Paid plans include deal management, bulk email management, integration with other applications, analytics report.
The paid plans name includes Sprout, blossom, Garden, Estate and the price range from 12 dollar to 49 dollar.
Freshsales lags in issuing quote, order and invoice management into the tool. The Freshsales does not include price books and product stats.
2. Zoho CRM
Zoho CRM is a small and compact CRM which combines multiple features in one common platform.
The Zoho CRM incorporates features such as sales management, and strong social media suite which allows the user to involve social media into customer relationship management, follow up conversations and posting on Facebook, twitter, Instagram and LinkedIn.
The Zoho CRM offers free plans for three users which includes contact, opportunity management and social media connections.
The Paid plans such as Standard and Professional users can make use of sales forecast, social media integration, opportunity management with a price range of 12 dollar per user to 20 dollar per user per month.
Zoho CRM users feel that the tool is easy to modify, track sales, and set future routine tasks. The data import function from the tool is made easy. The technical support is very supportive.
The Zoho CRM's offers 1GB storage per user where the user can purchase additional storage for money. Whereas, the peer organization offers unlimited storage for all account types
3. Agile CRM
Agile CRM is a strong built-in automated software that use modified triggers to incorporate search through email, social media and messaging. The basic features in the software provide advanced marketing abilities without investing dollars.
The paid plans start from 9.99 dollar per user to 39.99 dollar per user per month.
The Agile CRM is unable to track the visitors which is important to drive sales and improvise interaction. The Live-chat feature is impressive.
The users feel that they have the ability to monitor sales report, marketing and other services under one platform.
4. Pipedrive
Pipedrive CRM makes the sales pipeline process simple. The pipeline management tool enables the user to view the sales pipeline enabling to manage sales of products and services.
Pipedrive is the best for small business teams who wants an effective pipeline sales management.
The Pipedrive offers monthly paid three tier plans which ranges between 12.50 dollar per user to 49.17 dollar per user. The slightly high pricing makes a benchmark from rest of the products. Most importantly, there is no free unlimited plans.
The Pipedrive does not have lead assignment and routing which lags in accounts  based sales for more than one contact.
The users feel that pipedrive is rich in feature and user interface is simplified.
5. Bitrix24
Bitrix 24 CRM comes with free tier which comprises all mandate features to run a small size business.  The versatile features include contact management, project invoice, live chat.
The Bitrix24 comprises double paid monthly plans ranging from 69 dollar to 99 dollar per user.
The unlimited plan offers social media interaction.
The users feel that email marketing is a missing factor. The multiple functionalities keeps the tool busy. The tool is not user-friendly.
6. Hubspot
Hubspot behaves like a marketing dashboard with business oriented activities. The Hubspot provides email and deal tracker along with lead management, live chat to support the customers.
The CRM is equipped with contact management but the user need to learn the other features to excel.
Hubspot offers free pricing with unlimited business functionalities. The paid pricing plans range from 50 dollar to 400 dollar per month and likewise the functionalities increase.
The users feel there is a lag in  workflow management and only paid customers are given customer attention. The report generation can be improved.
7. Insightly
Insightly is small sized business CRM with competitive pricing.
The CRM comes with management function and sales pipeline tools. This tool also supports vendor, customers and prospect and numerous reporting options.
The Insightly pricing ranges from 29 dollar to 49 dollar per user on monthly basis.
The paid pans have exclusive, innovative business management features.\
The insightly fail to provide product statistics unlike others.
The Insight enables the user to control options through the email and easy navigation.
8. VtigerVtifer
VitgerVtifer is modifiable CRM which incorporates sales, marketing, accounting, and other service features with extended customer support.
The monthly pricing ranges from 10 dollar per user and a free source version is provided.
The onboarding session with email and call support.
The Vtiger CRM does not integrate with other software.
The customer support is the main objective in Vtiger. The technical team resolves the issues in just one day. The Live chat professionals are very courteous and the negative feedback is considered on a serious note.
9. Dubsado
Dubsado is a CRM for solo business entrepreneurs and efficient in lead management tool. The CRM tool allows the user to manage contacts and organize other tasks.
The monthly pricing starts from 35 dollar and pay 350 dollar for yearly subscription.
The Dubsado CRM offers lead management and suitable for creative entrepreneurs. The repetitive billing, digital marktinng, analytics, client websites.
The missing factor in this CRM is its focus only on web-based activities.
10. Streak
Streak CRM is accessed through your Gmail account inbox section. The inbox section allows to create and organize contacts, deal management, sale pipelines and customer interactions.
Streak CRM free plan involves two users and has unlimited sales pipelines. The monthly plan pricing range is 49 dollar per user. The monthly plan includes access permissions, mobile application and other tasks.al
The Streak CRM does not have marketing automation functions when compared to other CRM software's. There is no incoming or outgoing call mode.
End Summary
The Small Business CRM is necessary for contact management and other sales process. Mostly business owners and entrepreneurs find CRM useful in digital marketing, project management and analytic metrics.
The Best CRM software for your small business organization depends based on the number of users and the versatile features.