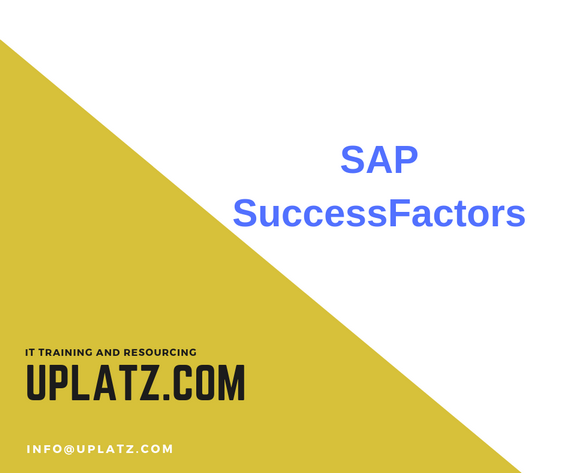 SAP SuccessFactors is a cloud-based platform provided by SAP to manage Human Resources (HR) related operation in an organization.
The word "cloud" has become the buzzing word to the latest emerging applications which are being delivered in the corporate world. SAP SuccessFactors is also related to cloud-based HR Information System (HRIS) which enables the best business process in order to achieve the greatest path to success.
SAP SuccessFactors is one of the most widely used cloud-based SAP HCM software and is helpful in the management of a full range of HCM functionalities like: Talent Management, HR Analytics, Payroll management, Recruitment, etc. SAP SuccessFactors is based on Software-as-a-Service (SAAS) model, which doesn't require the maintenance and installation of any hardware.
Because of the huge benefits of SAP SuccessFactors cloud HCM Software, it is one of the most successfully used in most of the modern companies. And you can see Lot of job openings around the world that motivates professionals and beginners to Learn and earn in SAP SuccessFactors cloud HCM field.
Uplatz is reputed SAP SuccessFactors Training Provider in the market, our SAP SuccessFactor course curriculum is best designed for beginners and professional learners. We are having certified professional SAP SuccessFactor online tutors who have great teaching experience and able to provide hands-on practical and project-oriented SAP SuccessFactors Training.
Our goal is to provide you the best facilities for SAP SuccessFactors online training so that our participant would easily qualify the SAP SuccessFactors Certification exam, to prove their theoretical and practical knowledge.
SAP SuccessFactors is divided into many different components and students can aim for one or multiple certifications.
1) Employee Central: 
This is the core module where all employee data is stored. Anyone looking to start learning SuccessFactors would need to start from Employee central commonly referred as SF-EC
2) Performance & Goal Management: 
This is the component where business can assign goals to the employees based upon business targets and can recognize the top talent.
3) Compensation:
This component will allow providing incentives to the employee based on performance
4) Learning Management System:
As the name suggests this is a cloud-based component which has all the learning related activities, it can store all e-learning which a company has to offer, it will also allow each employee to have a career plan and provide all necessary learning to enhance their knowledge and help the organization to close the skill gap.
5) Recruitment Management: 
This module makes the recruitment process easier by providing the right tools.
6) On-boarding & 
Off-boarding
7) Variable Pay
8) Employee Central Payroll
The SAP SuccessFactors training course is specifically designed to equip you with knowledge and practical experience to drive any business in this area or switch to a premium job in this field. The course will be taught by a highly experienced and expert instructor, and will contain SAP SuccessFactors training material, tutor notes, practical exercises, server access for practice, notes to help you in SuccessFactors certification, and life-time access to the session recordings.
Benefits of SuccessFactors module are:
a)  Aligns – the labour force with a raising strategy and will make the people to work on the right tasks
b)  Optimizes – the performance across the organization as you find the right people
c)  Accelerates – the business results with more productivity Who can opt for SAP SuccessFactors?
Target Audience
1)  Candidates with 3 to 4 years of experience in General HR module
2)  People having Payroll experience
3)  Professionals having Recruitment experience
4)  Candidates registered for SAP OLTC (Online training) program
5)  Working Professionals with good knowledge in SAP HCM modules with Domain experience
6)  SAP Consultants keen to get certified
7)  Support staff functioning on SAP HCM required skills
8)  Having work experience in HR will be a benefit
9)  Prior work experience in Recruitment
10) Working experience in consulting organizations in HCM
SAP SuccessFactors Certification
C_THR81_1811 – SAP Certified Application Associate – SAP SuccessFactors Employee Central Q4/2018
C_THR82_1811 – SAP Certified Application Associate – SAP SuccessFactors Performance and Goal Management Q4/2018
C_THR83_1811 – SAP Certified Application Associate – SAP SuccessFactors Recruiting Management (Core Configuration & ATS) Q4/2018
C_THR84_1811 – SAP Certified Application Associate – SAP SuccessFactors Recruiting Marketing (Career Site&Advanced Analytics) Q4/2018
C_THR85_1811 – SAP Certified Application Associate – SAP SuccessFactors Succession Management Q4/2018
C_THR86_1811 – SAP Certified Application Associate – SAP SuccessFactors Compensation Q4/2018
C_THR87_1811 – SAP Certified Application Associate – SAP SuccessFactors Variable Pay Q4/2018
C_THR88_1811 – SAP Certified Application Associate – SAP SuccessFactors Learning Management Q4/2018
C_THR89_1811 – SAP Certified Application Associate – SAP SuccessFactors Workforce Analytics & Planning Functional Consultant Q4/2018
C_THR91_1811 – SAP Certified Application Associate – SAP SuccessFactors Onboarding 1.0 Q4/2018
C_THR92_1811 – SAP Certified Application Associate – SAP SuccessFactors Reporting Q4/2018
C_THR95_1811 – SAP Certified Application Associate – SAP SuccessFactors Career Development Planning and Mentoring Q4/2018
C_THR96_1811 – SAP Certified Application Associate – SAP SuccessFactors Workforce Analytics Technical Consultant Q4/2018